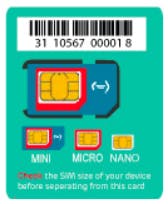 You'll just need the SIM number located on the back of your SIM card to get started.
How long will activation take?
You should allow up to 2 business days for your SIM to become active. If you're transferring your number and have an existing SIM in your handset, wait until it stops working before inserting your new SIM.
Your SIM Number
Enter the number on the back of your SIM card without the spaces or letters. Telstra & Optus SIM numbers are 13 digits.